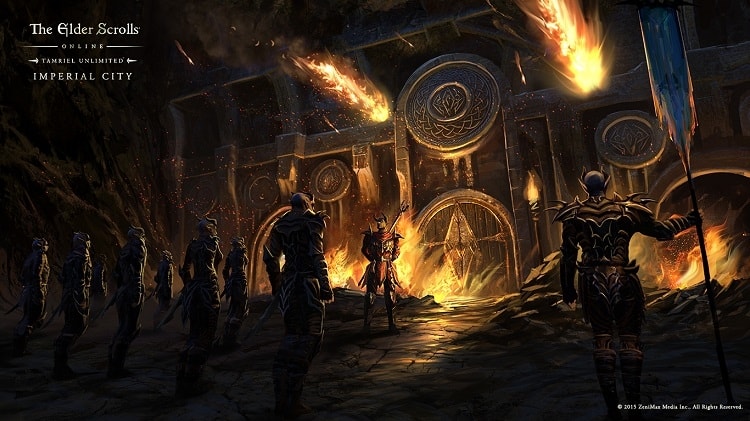 IMPERIAL CITY DLC RELEASE - August 31, 2015
After being promised to be released "shortly after launch", just over a year ago, the long awaited Imperial City release is finally upon us! It is currently scheduled for release on 8/31/15, but it is also on the PTS for those that want to try out its content beforehand.
So, what is the Imperial City in ESO? Imperial City is a PvP zone within Cyrodiil. Your Alliance must own a certain number of keeps before you can gain access to the sewers that lead to the Imperial City. This means that 1 alliance can potentially lock out the other 2 to keep all the new gear and loot for themselves. Once within the sewers you are placed inside your home base, which is a safe zone that only your alliance can access. From here you can access one of the 6 districts above to PvP or continue exploring the sewers and its PvE content. Players are not the only threat you face in the districts though. Daedra litter the streets and are around every corner. Some are trash mobs killed in a few hits, but others are elite bosses capable of killing the strongest warrior with one well placed blow.
The Imperial City DLC also adds something new to ESO, besides dungeons or a new locale to quench your PvP thirst. It adds risk to PvP in the way of a new currency named Tel Var Stones, which are required to buy the V16 gear sets. As of this post you lose 100% of your stones when killed by another player. The only way to secure them is by storing them in your bank either at your alliance base or starting point within Cyrodiil. Dying by mobs causes you to lose these stones as well, but only a small percentage.
As stated above, there are V16 sets, so obviously the veteran system is being expanded upon as well. There are still plans to remove them, but that day won't come by 8/31/15. ZOS has, however, lowered the effort required to obtain a veteran rank, which is available for anyone that owns the base game.
15% decrease in the amount of XP it takes to gain a Veteran Rank
100% more XP for all public dungeons
50% more XP for all Veteran Rank quests
20% more XP in Craglorn